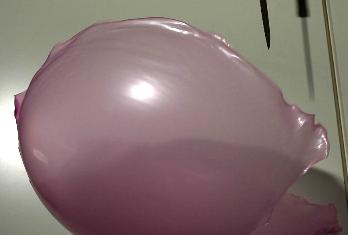 (Picture Credit Unknown)
Here we see a balloon caught mid-pop. As it was not over-inflated, the burst is simply a tear. This tear will result in one or two pieces.

Still, the clues to shredding are visible. On close inspection you can see shock waves traveling through the skin of the balloon. These are actually sound waves containing peaks and troths of pressure. The balloon skin works like a speaker diaphragm, this is one of the reasons balloons pop so loud. If you rub your hand across a tight balloon, the squeaking can be deafening! This is due to the Diaphragm effect.